Hola, once again.

I know lots of people have blogged about this but I just had to get in one this one.

So rarities rarely happen and this one is truly a rarity. Here goes anyways;

ABHINAV BINDRA WON INDIA"S FIRST GOLD MEDAL AT THE BEIJING OLYMPICS 2008. HE WON INDIA"S FIRST EVER INDIVIDUAL GOLD MEDAL AT THE GAMES. HE ALSO WON THE FIRST GOLD MEDAL AT THE GAMES SINCE 1980!

CONGRATS TO ABHINAV BINDRA!

ABHINAV BINDRA HAS BEEN GIVEN 1 CRORE RUPEES BY THE PUNJAB GOVERNMENT, 25 LAKHS BY THE BCCI, 11 LAKHS BY THE BIHAR GOVERNMENT AND SOME MORE CASH FROM SOME OTHER GOVERNMENTS!


THIS IS DEFINITELY A HISTORIC DAY FOR INDIAN SPORTS!


THANKS ABHINAV! YOU MADE US PROUD!


I think that was it in a nutshell. Abhinav Bindra has done India proud. He has outdone himself and he has done his nation proud. I am sure every single Indian who has heard the news will be extremely proud to be an Indian and will be really happy about this news.

Abhinav Bindra was not expected to win a medal. He wasn't like the other shooters like Gangan Narang and all who were expected to win medals. Abhinav Bindra was not there at the Opening Ceremony. He was busy resting and getting mentally prepared for the Olympics.

Back home, he would pratice more than 8 hours a day inside the shooting range. He would do it because he was driven. He did it because he had passion.He did it because that was what he enjoyed.

He was born on September 28th, 1982. He is now 25 years of age. He is from Zirakpur, in Mohali district (near Chandigarh), Punjab.

At the 2008 Beijing Olympics, Abhinav Bindra won the gold for the Men's 10m Air final after shooting a total of 700.5. He scored 596 (fourth) in the qualifying round and out-scored all other shooters in the finals with a round of 104.5. In the finals, he started with a shot of 10.7, and none of his shots were below 10.0. Bindra was tied with Henri Hakkinen heading into his final shot. Bindra scored his highest of the finals - 10.8 (A Bullseye) while Hakkinen came with 9.7 to settle for Bronze medal.
He is the current World and Olympic champion in the 10m Air Rifle Event.


This is just an amazing feat. India has never won an individual gold medal and this is just great. This is definitely a historic day and this is a rarity until now. I am certain India will get some more medals and many more in the future.

Here are some photos of Abhinav Bindra;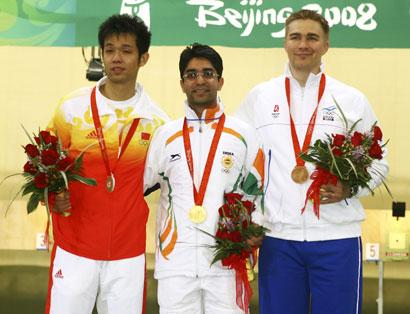 Here is a video of Abhinav Bindra winning gold;




Here is to hoping all of you Indians feel proud!
Here is to hoping all of you Indians will be watching the Olympics now!
Here is to hoping all of you Indians now feel that India are capable of winning more medals!
Here is to hoping all of you Indians will now be getting into the act and starting to play sports.
Here is to hoping all of you Indians will finally believe that one day India can compete with USA & China at the Olympics! Maybe by 2020?

That is all for now but tomorrow and day-after, I have a lot lined up for you readers.

1. I am going to be posting what I think are the medal prospective for the Indians in the rest of the Olympics.
2. I will be posting the good, the bad & the ugly of the Indian campaign at the Olympics so far.
3. What are the chances of Micheal Phelps getting a record 8 Gold Medals at eh Beijing Olympics?

This is Sahil Bhalla exiting and feeling extremely proud to be an Indian today!

10:16 AM | Labels: 10m, 2008, 2020, Abhinav Bindra, Air Rifle, Beijing Olymics, Event, Gold Medal, Indian, Indians, Micheal Phelps, Mohali, Pictures, Proud, Video |
This entry was posted on 10:16 AM and is filed under 10m , 2008 , 2020 , Abhinav Bindra , Air Rifle , Beijing Olymics , Event , Gold Medal , Indian , Indians , Micheal Phelps , Mohali , Pictures , Proud , Video . You can follow any responses to this entry through the RSS 2.0 feed. You can leave a response, or trackback from your own site.